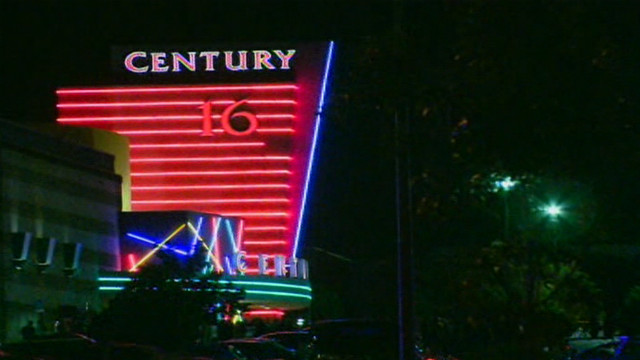 It's one of those stories that just puts everything else on hold.
During the midnight screening of the Dark Knight a man wearing a gas mask threw tear gas in the theatre and sprayed around 50 bullets killing 12 and injuring at least 38, and these numbers are likely to rise.
There has been amateur video on YouTube, thousands of tweets and a comprehensive timeline of events has been compiled on Reddit with links to police video and audio and a detailed run-down of numbers and reports. The shooter's family have said, their "hearts go out to the victims of this tragedy in Colorado, while Obama said "There are going to be other days for politics."
This is a terrible atrocity, and to happen just 20 miles from Columbine, which still suffers from the tragic school shooting in 1999.
One of the victims, Jessica Ghawi, who went by Jessica Redfield, was also at the Eaton Center Mall shooting in Toronto in June and was lucky to survive it. She wrote about her experience on her blog. Reading both her blog post and tweets leading up to the movie screening are difficult to do. For this woman to have been involved in two mass shootings were so unlikely and so saddening. More on Buzzfeed.
I was shown how fragile life was on Saturday. I saw the terror on bystanders' faces. I saw the victims of a senseless crime. I saw lives change. I was reminded that we don't know when or where our time on Earth will end. When or where we will breathe our last breath. For one man, it was in the middle of a busy food court on a Saturday evening.
There will be many issues raised from this: from violence in movies to, what is surely the biggest issue at hand, gun control in America.
More will be written on this.
However, today, our thoughts go out today to the people of Aurora, Colorado, and to all those affected by this harrowing atrocity. There are no words.
Sources:
Shooting at Midnight Batman Showing Kills 12, Injures 38[Slate]
Police: 12 dead in Colorado theater shooting [AP]
Comprehensive Timeline of Aurora Massacre [Reddit]
After Aurora, Lessons from Columbine [Time]
Mass shooting at Batman screening in Aurora, Colo.; At least 12 dead, dozens more wounded [CBSNews]
Shooting Victim's Last Tweets From The Theater [Buzzfeed]