Today Paul Chambers received a very positive win on the so-called #TwitterJokeTrial case which was based around a tweet sent in frustration: "Crap! Robin Hood airport is closed. You've got a week and a bit to get your shit together otherwise I'm blowing the airport sky high!!" The, now very well known tweet, was written in January 2010 after Paul discovered the Robin Hood airport was closed due to snow before he was due to visit his then-girlfriend, now fiancée, in Northern Ireland.
It was always a joke, albeit a bad one, however, Paul Chambers had never once seriously considered blowing up an airport, similarly, you nor I would never kill anyone despite our rage and or perhaps uttering the worlds "I could kill…" These words are not to be taken seriously, nor are they meant in a serious way. A lot of the English language is figurative, the fact that it took so long for the English court system to see that is sad, though in the end they did and this case referred to as the case that showed that common sense does prevail.
On 10th May 2010 Paul was prosecuted under section 127(1) of the Communications Act 2003, which prohibits sending "by means of a public electronic communications network a message or other matter that is grossly offensive or of an indecent, obscene or menacing character".
The Crown Prosecution Service stated in 2010: "Section 127 of the Communications Act 2003 was considered to be the correct charge in the particular circumstances of the case. Under 127(1) an offense is committed where suspect sends by means of a public electronic telecommunications system a message or other matter that is "grossly offensive, or of an indecent obscene or menacing character". A message can be any of these (rather than having to be all of them) and the message in this case was clearly of a menacing character."
As stated in a detailed article in TheLawyer.com by Paul's Lawyer, David Allen Green:
It seemed to me to be the wrong offence in a prosecution which could not be in the public interest. It also seemed to me to be a huge leap to take section 127(1) from its application to telephone calls to a Twitter posting just because of the technological contingency of the internet being an aspect of a public telecommunications service.

So I asked the CPS why this prosecution was seen to be in the public interest. Their response was:
"While Mr Chambers may have meant this as a joke, the airport could not risk treating it as such. The threat had to be taken seriously by the airport authorities, who contacted the police. It caused unnecessary disruption because of a menacing communication."
While neither police nor the airport considered the tweet to be a serious threat, the judge stated that it was "menacing in its content and obviously so. It could not be more clear. Any ordinary person reading this would see it in that way and be alarmed." The judge in this case could see that it was not funny, yet did not understand that it was not meant literally. At the time, this brought out discussion on what constitutes a funny joke.
The point was made in the Heresy Corner blog that this was "an offence against the deepest principle of Englishness. And I don't mean justice, fair-play or common sense. I mean humour."
The action against Paul Chambers has rightly been dubbed the "Twitter Joke Trial". Not just because it was a joke of a trial – though certainly not a funny one – or because it centres on what everyone involved acknowledges to have been a joke. What has been on trial is the possibility of humour itself, the right of a freeborn Englishman to be facetious as and when he feels like it, about any subject whatsoever. Against that age-old national instinct to make light of adverse circumstances – the spirit that got us through the Blitz – we now find a new and alien notion that there are some things that are beyond joking, that even an obvious joke must be treated seriously. Because it's no laughing matter. Because you can't be too careful. Because any imagined threat, however patently absurd, must be ritually investigated. And the person making the joke must bear the responsibility for the time-consuming and costly process of investigation, even though the possibility of such an investigation never crossed his mind, just to drive the message home that You Cannot Make Jokes About Terrorism.
The case proved to be a serious blow to freedom of speech and simple common sense. With over 10 million people on Twitter, this had an affect on the freedom of speech of each one of them, not just Paul.
Today, however, the judge stated: "The appeal against conviction will be allowed on the basis that this 'tweet' did not constitute or include a message of a menacing character; we cannot usefully take this aspect of the appeal further."
According to the Guardian, John Cooper QC, who represented Chambers, said: "It's an important decision for social networks. It means that in future not only does a message have to be of a truly menacing character but the person who sends it has to intend it to be menacing.
Head Of Legal has a short interview with Paul Chambers' legal team.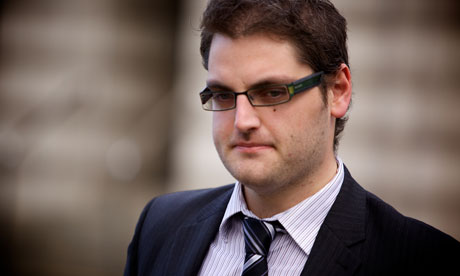 In summary, it is unfortunate that Paul Chambers was targeted for posting a simple, facetious tweet, having since lost two jobs and "dragged out of obscurity and forced to be a public celebrity of a kind."
As one commenter has said: "Will the duty manager who reported it to the police be arrested for a) wasting police and everyone elses time b) being a self righteous jobsworth?"
The full judgement is online for your reading pleasure [pdf].