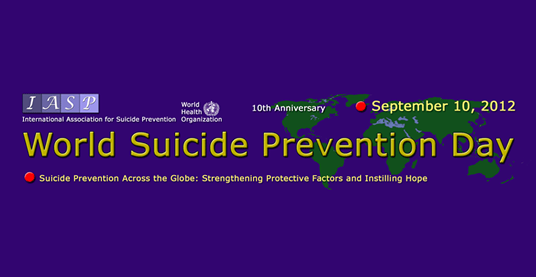 Today is the 10th anniversary of World Suicide Prevention Day: the purpose of which is to promote awareness, commitment and action in preventing suicide. This year's theme is "Suicide Prevention across the Globe: Strengthening Protective Factors and Instilling Hope".
Suicide is a very personal issue, and many of us know someone who has thought about it, or indeed gone through with it. According to recent statistics, Health Minister Edwin Poots said in June 2012 it is "almost six times the rate of death due to road traffic accidents". With a record 313 suicides registered last year.
The rise in these figures has been linked to a number of factors, including unemployment and the current economic climate.

Suicide rates are twice as high in deprived areas of Northern Ireland – for young men, it's often said to be down to the over-use of alcohol and drugs.
According to Psychology Today the six reasons for attempted suicide are:
Depression
Psychosis
Impulsive
Crying out for help
A philosophical desire to die
They've made a mistake
A recet study by Queens University Belfast found that the highest rate of suicide in Northern Ireland is among men aged 35-44, also known as "Troubles Children". Speaking about the study Professor Tomlinson, from the School of Sociology, Social Policy and Social Work said:
"The increase in suicide rates can be attributed to a complex range of social and psychological factors.
These include the growth in social isolation, poor mental health arising from the experience of conflict, and the greater political stability of the past decade.
The transition to peace means that cultures of externalised aggression are no longer socially approved or politically acceptable."
In June 2012 Edwin Poots launched the 'Protect Life Strategy and Action Plan'.
Worldwide statistics:
Data from The World Health Organization (WHO) indicates that 1 million people die every year of suicide worldwide
There is one death by suicide every 40 seconds
There are more people lost to suicide than to homicide and war combined
Suicide ranks as the second leading cause of death worldwide among 15-19 year olds
More than 100,000 adolescents die by suicide each year worldwide
Highest rates of suicide are among those age 75 and older
Up to 90% of people who take their own life have a psychiatric disorder
How to support World Suicide Prevention Day 2012:
Suicide is a difficult and traumatic. The greatest thing to do is to provide a support network for people.